RENOVATION OF A PARISIAN APARTMENT
RENOVATION OF A PARISIAN APARTMENT
A new look for a 58m2 pied-à-terre in Paris
Bruneau Ghezzi Architectes Paris is working on its first project in Paris, located in the 11e arrondissement. The challenge for our Parisian architects was to renovate the apartment and give the new owners a more functional space, while adding an extra bedroom for a child, maximizing and customizing the interior spaces with minimal cost, and in record time. The architects are up to the challenge.
1.Before
This Paris apartment is the combination of several spaces. It is a two-room, 58m2 apartment on the 4th floor without an elevator. A separate kitchen, a large light-filled 30m2 living room, and one bedroom with bathroom and dressing area.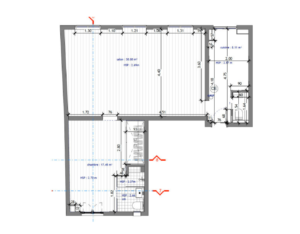 2. The client's brief
The owners, a family living abroad with their young child, desired to make this apartment their Parisian pied à terre. They wanted to add a second bedroom for their child, entirely renovate the bathroom—which was too small and not functional—and add closets.
3. The project
The floorplan for the apartment was calculated down to the last square inch in order to maximize the potential of every room.
Our architects created the additional bedroom in the space that was the kitchen, and the guest powder room became a laundry room with storage. In the living room, the main room in the apartment, which measures 30m2 with a lot of natural light, the architects added a kitchen that opens to the living room/dining room.
The parents' bedroom saw the most extensive renovations, with the creation of a 'box' housing the bathroom and WC. This space serves as a passage between the living room and bedroom. Other improvements include installing a new parquet floor, creation of a custom dressing area, and a custom wall treatment behind the bed.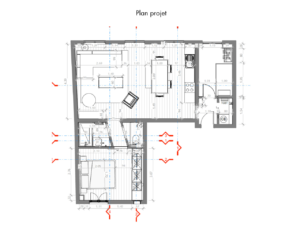 4. Color / Interior Design
One of the main constraints for this project was to add wood parquet floors in the living room. In terms of colors, we worked with nuances of grey, wood, and white, leaving the clients free to add their own decorative touches.
A splash of color in the parents' bedroom is an azure-blue wall behind the bed to add pizzazz to the space.
A look at the work…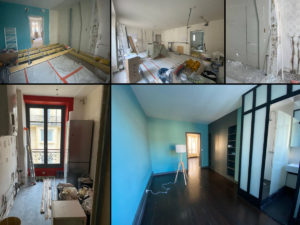 ____________________________________________________
Project: Renovation of a Parisian apartment
Mission: Redesign of the interior + project management
Architect: Bruneau Ghezzi Architectes Paris
Contractor: Entreprise Marc Meunier – all trades
Location: Paris
Surface: 58m2